från 3.428 EURO

Avfasningssystemör avfasning av rör med inre fastspänning
Lämplig för arbeten på membranväggar eller svåråtkomliga platser
Robust medtagbar röravfasningsmaskin med en total omfattning på Ø 8 - 108mm.
Maskinen är konstruerad för arbeten på svåråtkomliga platser eller för arbeten på membranväggar.
Avfasningens vinkel och form är valbar.
Maskinen är efter inställningen klar att snabbt och upprepande gånger bearbeta rörändar för svetsning.
Användbar för alla bearbetningsbara metaller inklusive rostfritt stål.
Med möjlighet att välja elektrisk eller pneumatisk drift.
Maskinernas elektriska versioner:
Maskinen är utrustad med en högeffektiv elmotor i ett metallhölje med ökad hållfasthet.
Spänning:
220V/50Hz
110V/50Hz
Motoreffekt 1,1kW
Maskinernas pneumatiska versioner:
Dessa drivenheter är särskilt lämpliga i explosiva miljöer
Drifttryck 0,8 – 1,5 Mpa
Krav på luftgenomströmningen 1000 - 1500 L/min
(lufttillförseln skall vara utrustad med filtrerings- och smörjenheter)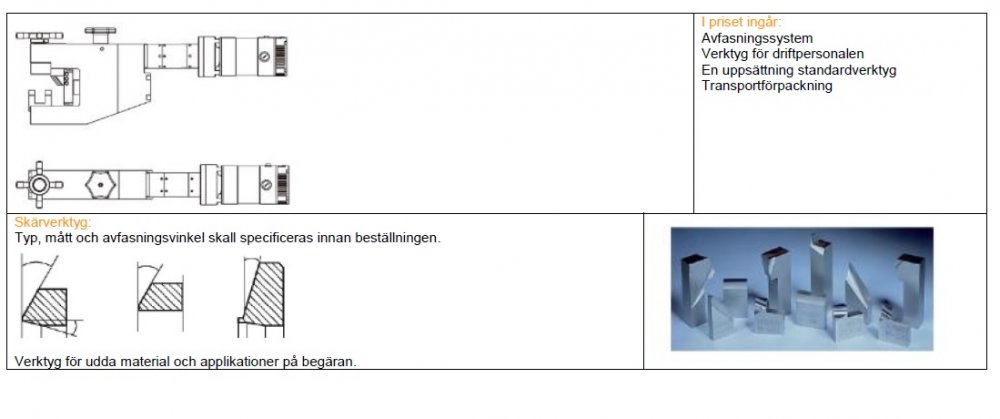 I priset ingår:
Avfasningssystem
Verktyg för driftpersonalen
Uppsättning standardverktyg
Transportförpackning
Satisfaction Guaranteed
If you are not completely satisfied with one of our products you may return it any time within 30 days of the date of Sale for a hassle-free refund of the amount paid for the product. We only specify that the product not be used, damaged, missing components or manufacturer's documentation. Refunds do not include shipping costs. On exchange of defective products, BEVELLING MACHINES EUROPE s.r.o. will pay for shipping on the outbound replacement product only. Special order or non-stocking items are specifically exempted from this policy and will be assessed an appropriate re-stocking charge. Place your name and order number on the package for efficient identification, and insure all returns for your protection. Please note that we do not pay the shipping charges involved in returning goods.